Modi a Threat to Amit Shah's Life!
By Mohammad Aatif
Plan to destabilise Sectarian Life in the Country before General Elections : Threat of Making UP the Killing Venue : Food for thought for the State and the Centre
Published in Daily Sahafat on 19 June 2013
Nai Delhi, 18 June: One needs not to be briefed that how many differen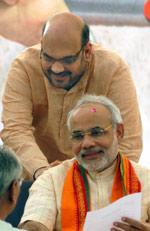 t tactics can be used to gain power in politics but in the World's largest democratic country it is a matter of extreme concern for the sake of peace and harmony. Political parties have started making themselves ready for the coming general elections.
After  Gujarat's chief minister Narendra Modi being made chairman of BJP's election campaign committee and the responsibility of Uttar Pradesh campaign being handed over to his commander in the field Amit Shah, fears are continually been expressed that Lok Sabha's 2014 elections will now be held on the basis of sectarianism. This fear has been strengthened by Modi's statements about Darshan of the controversial Ram Mandir in Ayodhia and making the Ram Mandir an electoral issue through Amit Shah. In this field where on the one hand BJP has busied itself in making country's atmosphere sectarian sensitive, great internal strife is going on within the party itself on the other hand.
According to the sources and with reference to the Gujarat's senior police officers arrested in connection with the killing of Mumbai student Ishrat Jahan and four others in a fake encounter after claiming that they were terrorists, rumour is that Modi is on track to prepare a dangerous plan to kill two birds with one stone and with that it is also being said that he is trying to shunt Amit Shah out of his way and plunging the State into sectarian violence so that BJP could benefit from all this scenario in the same way as he had done in 2002 after anti-Muslim riots in Gujarat.
It is also being said that in the State of Gujarat whenever someone who dared to stand up against Modi or becoming a hindrance in his way, he got him 'cleared' from his way. Minister for internal affairs of the State Haren Pandya and others are stated as a clear proof of this. And even when in the 2002 anti-Muslim riots in Gujarat Modi's name started appearing as one involved then to save himself from the blame he did not shirk from naming government officials. India's largest state is Uttar Pradesh and at the moment sectarian tension is on the increase in there. This sectarian tension has been initiated by BJP's Member of Parliament Aditya Nath in eastern U.P. and BJP's MLA Hukam Singh in the western U.P. Political pundits acknowledge that BJP has realised that it will be difficult to win in the General Election if they were held in peaceful atmosphere.
Whenever BJP won greater number of seats it always happened during the atmosphere of hate and tension. And it is with an ulterior motive that Amitt Shah, the person who was held in jail for many months on charges of the fake encounter with Sohrab-ud-din sheikh, has now been given the charge of UP election campaign because Amit Shah is also one of Gujarat's discredited leaders. At a time when general elections are due at less than a year's time and the fears emanating from introducing Amit Shah in UP it has become the responsibility of the State government to become alert and thwart any conspiracy like that. For this proper security should be provided to Amit Shah at the one hand and the State kept peaceful on the other and those sectarian elements that are planning to disturb the peace of the state should be brought to light and tried according to the law so that it should be a lesson to others and they keep their mischief to themselves. With that although the law and order situation is the responsibility of the state government, the Central government as well is responsible to keep law and order situation under control and it cannot absolve itself from this responsibility because the scenario that is being developed is indicative that if the law and order situation in the state gets disturbed then it will be the fascist parties that will benefit from and worst effected will be Muslim community. Politics is a way to acquire power and therefore all should get their fair chances but not at the cost of the life and property of the other.