Urdu Press Pays Rich Tribute to Gauri Lankesh, Remembers Others Killed in Similar Fashion, Warns of Threat of Fascism to Country's Integrity and Unity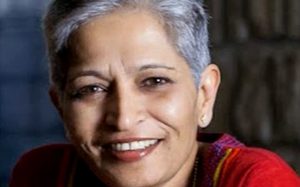 Urdu Media Monitor
Urdu newspapers have given extensive coverage to the brutal murder of one of the most respected Indian journalists and activist Gauri Lankesh found lying in a pool of blood on the porch at her home in Bangalore, 6 September 2017.
Several of them carried the shocking news on front pages, along with follow up stories and reports of outrage all over the country and have devoted full page editorials paying rich tributes to Gauri Lankesh, one of the most fearless critics of Hindutva government and its supporters.
'As an executive member of Delhi Union of Journalists (DUJ), I stand embarrassed before you O Gauri! And my grief is equally profound.' Wrote senior journalist and columnist M Wadood Sajid in an emotive piece headlined 'A Thousand Salutes to You' published on his Facebook page, leading newspapers and news portals.
'This was the third murder of its kind in Bangalore. Gauri Lankesh was a fearless and justice loving journalist. She did not like the ideology of those who detest the secular and peace loving people of this country. Opposed to the miscreants, Gauri believed in negotiations instead. Gauri's last article was on the displaced and stateless Rohingya Muslims after which heartless beasts silenced her for ever.' He added.
Wadood Sajid came heavily on the absence of Muslim organisations from the protest of journalists at Jantar Mantar, New Delhi. 'Several of passionate Muslims have been raising voices supporting Rohingya Muslims but, alas, we could not spare even few minutes to remember the exemplary bravery displayed by this lady [against the atrocities on Rohingyas].'
He went on. 'These zealots were nowhere to be seen in the rare protest organised by journalist at Jantar Mantar today. Why on such occasions do our leaders become so reticent and act like the lifeless symbols of piety and abstinence? Even the leaders who affirm their beliefs in maintaining contacts with everyone, even the RSS, were not there.' Sajid wrote.
In a full page column daily Jadid Khabar said, 'Gauri had been the target of Hindutva brigade for quite sometimes. She wrote fearlessly against sectarian and extremist elements. Her struggle was not confined to writing only but she was a vibrant social activist as well.
'This was the third incident in a series of murders of journalists or writers. The murders of Narendra Dabholkar on 20 August 2013 and Govind Pansare on 20 February 2015, were part of the continuation of the same campaign. Both of these crusaders died fighting against the orthodoxy and extremism. Their killers have not been apprehended to date. We do not know if the killers of Gauri would ever be brought to justice. However, we know for sure that ever since fascist forces came at the helm of affairs of the country, efforts have been intensified to crush and silence the voices that are opposed to sectarianism and fascism in the country… In addition to targeting journalists, the fascists have also been aiming their guns at free thinking writers and intellectuals who refuse to succumb to any pressure. Efforts to scare and pressurise these journalists, intellectuals and writers have been magnified. What is noteworthy is that despite the injustice and threats by the authorities these people have refused to be deterred and are continuing their efforts  to attain their goal and this is what the Government does not like.'
The daily goes on, 'The reactions on Gauri's murder expressed by Hindutva brigade on social media  prove that these guys can go as low as rejoicing at someone's death. Such a practice goes against human values and is a brazen crime. Death is such a reality that every individual has to taste one day. But those who do not believe in human values feel no embarrassment in rejoicing at someone's death. However, the manner in which journalists and civil society have reacted to the murder of Gauri proves that there is still no dearth in this country of those who believe in democracy and supremacy of the constitution. These are the people who keep democracy alive. The Government should bear in mind that efforts to crush these immortal voices supporting democracy have always failed. And for as long as these voices are alive fascism cannot win.'
Expressing its anguish at the prevailing atmosphere of extremism, daily Avadhnama headlines its editorial as 'Journalist Gauri's murder: A conspiracy to suppress the truth'. It reads, 'For the last few years an atmosphere of terror is continuing to be being created in the country. Not only dissenting voices against an ideology are being crushed but in order to stop the truth from being public these voices are being silenced. During the last few years over a dozen journalists have been killed who dared oppose influential figures, corrupt leaders and their extremist ideology. Rajdev Ranjan in Siwan of Bihar, Akshay Singh, who was working on Vyapam scam in Madhya Pradesh, M V N Shankar who was trying to expose oil mafia in Andhra Pradesh, journalist Rajesh Kumar in Muzaffarpur, 7 December 2013, TV journalist TrunKumr in Orissa, 27 May 2014, Jogendra Singh in Shahjahanpur, 1 June 2015, who had written against a corrupt politician, and the Ram Chander Chhatrapati who exposed the rapist priest of Dera Sacha Sauda Gurmit Singh, were all silenced forever. All of this—the crushing of truth— is happening in India, the largest democracy and developing country. Anyone who does not subscribe to a particular ideology is eliminated. We keep condemning Taliban mentality in Afghanistan and Pakistan but this mindset is overshadowing India too. Truth is being crushed, freedom of expression is being attacked, the soldiers of pen and paper are being killed. Media is regarded as the fourth pillar of democracy but now this pillar is being attacked and weakened.'
Like other publications daily Inquilab avails the opportunity to remember journalists and writers killed by their opponents and attributes their killings by their murderers to the weakness and cowardice themselves. It writes, 'Dabholkar, Pansare, Kulburgy and now Gauri Lankesh, are the names of those intellectuals whose coward opponents did not have the courage to confront them on an ideological level and [chose to] kill them instead. This is the last weapon of ideologically flawed and weak people. The method of the enemies of secularism and unity is that first they use threats and terror against their opponents and then kill them. They are cowards and that's why they attack their opponents from behind and do so through ambush.'
Inquilab continues, 'While on the  one hand these murderers are coward, on the other hand they lack wisdom too. They think that they have finished the person they had targeted. May be after returning to their bases they rejoice at it or if they are hired killers they might get some monetary reward for it but their paymasters do not know that by killing of the holders of truth and fearless journalists and intellectuals they cannot eliminate the tradition of ideologies. They do not even know that by killing individuals their ideologies do not die with them. Individuals do not die but remain immortal in the form of their beliefs. They keep taking birth in all ages and all times their views keep spreading and having gone under severe tests keep gaining strength. Who is not aware of Socrates? No one in Greece could dare challenge his beliefs. So they fabricated baseless allegations against him. He could have accepted to be extradited from his country or the city.  But as a strong believer in his views he accepted to drink hemlock but did not tolerate to change his views. Were his opponents justified in thinking that his ideology had also been killed? No, his views did not die but covering the span of two and half hundred years have reached to us. Every educated individual knows Socrates and his pupil Plato and is aware of the views because of which he drank the hemlock.'
Akhbar-e-Mashriq in an editorial entitled, 'We will continue to act as the guardians of pen and paper and promoters of knowledge' says, 'There is no doubt that the environment of hatred and bigotry created by RSS and BJP have emboldened the murderers and they are targeting and killing all those journalists who ideologically differ with them… Not even a single word has been uttered by Prime Minister Narendra Modi on the murder of the journalist. What sort of silence is this? Let all the journalists of the country do their soul-searching and renew their pledge to fulfil their journalistic  duties. Our position is very pious and high. Our voices coming out of our hearts cannot be ineffective.'
RashtriyaSahare has headlined its editorial as, 'Sense of insecurity'. Expressing concern on the increasing number of attacks on journalists it says, 'For a long time it is being stressed that violence in the name of faith is not acceptable. On a number of occasions Prime Minister Narendra Modi has also made it a point in his speeches but there is no reduction in the number of killings and destruction and lynchings by gaurakshaks [cow vigilantes]. What is noteworthy is the fact that the need to stop violence in the name of faith is going on in social circles vociferously but not a single step has been taken that could deter and teach the gaurakshaks a lesson. Instead of stopping the occurrence of such incidents is increasing day by day.
'… Be it the violence by gaurakshaks or the tendency to eliminate one's political opponents, the real issue is that certain elements cannot tolerate the existence of their opponents for which they can go to any extent. With regards to gaurakshaks the first question that comes to mind is who has given them the right to take the law in their hands? This is a dangerous trend. If it is not stopped the consequence may be disastrous.
'On the other hand the murder of Gauri Lankesh  is a shameful act for a civilised society and humanity. Gauri Lankesh was a progressive writher and journalist. She continuously wrote against the autocracy of Hindutva groups for which she was made to pay with her life. Gauri Lankesh is not the only journalist who has been killed by the extremist. Before her Kulburgi, Dabholkar and Pansare were also murdered in a similar fashion. All of them were opposed to those doing the politics of partisanship and hatred. There is an outrage all over the country over the killing of Lankesh and emphasis is being laid on that our constitution guarantees every citizen the right to free speech and expression. The manner in which dissenting voices are being eliminated is giving way to the  fear that the country might be edging towards fascism. If it happens the country would lose its high position and stature as the largest democracy in the world and its unity and integrity thus get threatened.