Sheeba gets penalised for anti-Modi comments on his role in Gujarat riots
Social media angry at the case registered against Sheeba with Delhi Police
Translated from Sahafat, Delhi, 6 December 2013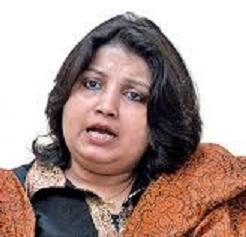 Background of the case: Angered by Sheeba's comments on Face Book Pankaj Kumar Duevedi had sent an email to her asking her to stop writing or be ready to face consequences. Sheeba complained about the threat with Delhi police after which police registered a case under Section 166 of IT law and presented a charge sheet to the court. But the court exonerated the accused and ordered the police to register a case under Sections 153 A, 153 B and 295 A of the Indian Penal Code against her.
An FIR has been lodged against a political comment on social media by social an activist, journalist and research scholar Ms Sheeba Aslam Fehmi at the Jama Masjid police station. During the hearing of an old case and taking cognisance of comments on Sheeba Fehmi's Face Book, Tees Hazari Court has ordered the police to register a case against her under Sections 153 A, 153 B and 295 A of the Indian Penal Code. In its verdict the court has taken notice of Sheeba Aslam Fehmi's post on her face book wherein she has made a reference about Gujarat's Chief Minister Narendra Modi. In her comments she has held Nrendra Modi responsible for the killings of innocent Muslims during 2002 Gujarat riots.
[In her defence] she says, 'I am very careful about the comments I post on my Face Book. I am an educated and cautious person and conscious of the fact that situation in the country can only be improved by acting within legal framework. No change can be brought about by challenging this framework. I have never written anything against the interests of my country but those who view Modi's interests and the interests of the country one and the same nothing can be done about then.'
Sheeba says, 'No notice has been taken of posts about Congress Party, Mulayam Singh Yadav but only the comments on Modi have been taken notice of. Muzaffarnagar's riot has been manipulated through the distribution of a fake CD on social media and in this connection the name of a member of legislative assembly, a lawmaker, is coming up. No one is talking about the big ones who are using social media to pollute the atmosphere to gain political mileage and those who are using social media, in an organised manner, to win elections, spreading hatred and are distorting and misrepresenting historical facts. But if a common man uses social media, it is made an issue.'
According to Sheeba's statement she had received a threatening letter in 2011 and she had reported it to Jama Masjid police. The police had told her that a case would be registered against the writer and he would be charged. After this she was never informed about that case. However later on 14 October the Tees Hazari Court hearing that very case exonerated the accused, Pankaj Kumar Duevedi who had sent the e-mail to Sheeba and instead took notice of her social media activism and ordered an FIR to be registered against her.
Sheeba has been openly writing on her Face Book on women and political issues. Opposition of Sheeba's case has already started on social media. Supporting Sheeba India Today's managing editor Dillip Mandal has tweeted that the effort to silence Sheeba is deplorable. Writing on Face Book Freelance journalist Frank Huzoor expressed solidarity with Sheeba Aslam and appealed others to support her in raising voice against those who are using civil institutions to curb voices of dissent and against communal and saffron elements. Social activist Humanshu Kumar said that if preparations are underway to lock Sheeba Aslam for writing against Modi and the communalists then let all those communalists, enemies of peace and anti-social elements hear that your action would result in each one of us will become Sheeba Aslam and will write what you are trying to stifle Sheeba for. This country does not belong to the killers of Gandhi and enemies of humanity like you but it belongs first to millions of Dalits, Adivasis, minorities and oppressed women. We will thwart your plans as we have always been doing. We are all with Sheeba.