Daily Rashtriya Sahara's editorial 23 March 2014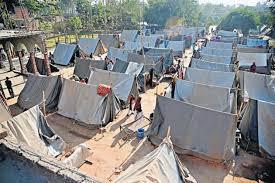 Recently BJP's candidate from Muzaffarnagar, Hukum Singh, has demanded that those riot victims of Muzaffarnagar areas who have left their homes and have been living in relief camps should not be allowed to vote. He has also declared that he would personally stop them from casting their votes. He has, though, not clarified how he would do it, one does not need extraordinary intelligence to guess that he can do so only by taking the law in his own hands. In other words he and his supporters will not let riot victims to go to polling booths. Needless to say that he is pointing his fingers towards the Muslim voters of the area. Obviously it is just impossible that any BJP supporter would utter such words about riot affected non-Muslims.
It surprising that even after hearing his threat, the administration remains unmoved and no legal action has been taken against him. What Hukum Singh has said is tantamount to challenging the government and the administration.  Silence [and inaction against/] on his statement would mean encouraging [vested interests] to push, once again, the region in the fire of violence and [anti-Muslim] riots.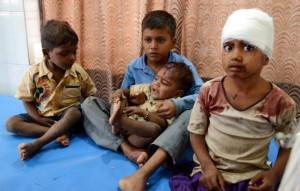 The plea given by Hukum Singh is that not all of those sheltered in these camps belong to the constituency and have been infiltrated by some, 'outsiders'. He has not supported his argument with any proof; nor has he provided any data to show that his allegation is based on some investigation. His argument that after leaving their houses riot-victims do not have any proof of their identities as voters is absurd too.
In this regard he has given the example of Assam and West Bengal where, according to him, Muslims from Bangladesh have infiltrated and have changed the demography of Assam and West Bengal. In his view this is the only reason of the increased number of Muslim voters in Assam and West Bengal. Let it be said that his knowledge of Assam and West Bengal is very poor because in these regions the number of Muslim voters has always been high. Even before independence Punjab, Sindh and Bengal used to be regarded as Muslim dominated areas. In 1942 British rulers divided Bengal into the East and West and even then it was recognised that after this division Muslim presence in West Bengal was more than a quarter of rest of the population. Murshidabad, Chaubis Pargana and Malda have always been regarded as West Bengal's Muslim dominated areas.
Late Fakhruddin Ali Ahmad was always elected as an MP from Assam. Another Muslim politician, Moinuddin, also briefly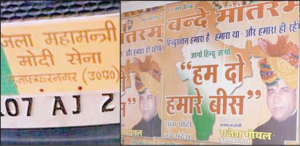 Assam's Chief Minister, won elections from Assam. In Muzaffarnagar and all the districts of western UP Muslim population has always been sizeable. It was this region that, at one time, used to be called Rohilkhand and was under the rule of Muslim Rohilas.
As has been said earlier Hukam Singh has not been able to substantiate his claim that outsiders have infiltrated these camps. His plea looks idiotic also because which, 'outsider', settled somewhere else would be willing to come to live in a riot torn region? Riot victims are not living in luxury houses but are clustered in camps where even basic amenities of life are not available. Which, 'outsider' will like to live in riot hit area where his life is always in danger? Also how someone having been forced to become homeless can mean that he has lost his democratic right to franchise too?
As for the proof of identity, before these riots and prior to BJP cashing on this violence Hindus and Muslims in Muzaffarnagar and surrounding areas used to live in complete amity. There prevailed a spirit of brotherhood among them and they knew and recognised each other. For them to recognise and pick up outsiders is not a difficult task.
This demand is a full-fledged and highly deplorable attempt to communalise parliamentary elections. This also indicates that BJP can raise similar demands in Assam, West Bengal and Mizoram too. It is because in eastern part of the country BJP is non-existent and has been trying its best to gain a foot hold. In eastern India BJP was able to gain some success only in Orissa but only with the help of a terrorist group like the Bajrang Dal.
Orissa has now slipped out of its hands. Despite its rhetoric of development, BJP's main weapon is sectarianism and it has tried to test this weapon in eastern and northern India. However, the statement regarding Muzaffarnagar demands immediate attention of the Election Commission and action against Hukam Singh is the only solution to the problem.