Noose around the organisations working against sectarianism?
Budget provides new grounds for action against NGOs. Action will be taken for not spending funds on public welfare and using them for a particular religion or caste. ANHAD asked to submit five years record of its activities. Teesta Setalvad, Harsh Mander and many others targeted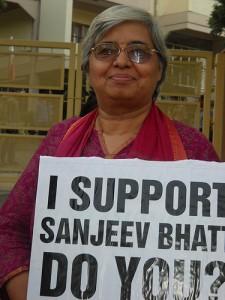 ANHAD target of the new Government
ANHAD is one of the organisations that have been most active against sectarian forces in Gujarat
During the elections it exposed the truth of Modi's claims of developments in Gujarat
Its head Shabnam Hashmi organised countrywide programmes and tried to show the true picture of Gujarat to the public
Now proceedings have been started against her organisation and a notice has been served to her organisation by the external division of Ministry of Home Affairs
By Mumtaz Alam Rizvi
New Delhi: Modi Government has started tightening its noose around Non-Governmental-Organisations (NGOs) working against sectarianism, fascism, injustice, unfair treatment and oppression. Modi Government's first general budget pays special attention to it. The general budget proposes changes in the present tax system after which tax concession given to NGOs may be stopped. So far the basis of any action against NGO's was them being doubtful and not working according to rules and regulations but now four more points have been added. According to these changes action will be taken for not using funds for public welfare, using it for a particular religion, caste or personal use.
Even before the budget was presented Central Home Ministry had started acting against several NGOs. Investigations about NGOs have been started by IB, CBI and other agencies. According to information NGOs and activists that had raised voices against BJP's Prime Ministerial candidate during elections are not safe now.
It should be remembered that during the election campaign more than a dozen NGOs, including ANHAD's head Shabnam Hashmi, Teesta Setalvad, Harsh Mander and Mahesh Bhatt, had highlighted with full force the Gujarat Massacre and had presented the true picture of Modi's Gujarat to the voters. Now the sword of action is hanging over their heads.
During ANHAD's convention of 4 and 5 July Modi's terror was quite visible. The convention discussed at length the question as to what is going to happen to the country's future of democracy and its integrity?
In addition, on 26 June a notice has been sent to ANHAD by the External Division of Ministry of Home Affairs, (FCRA wing) asking it to submit within 15 days the details of its activities of last five years. It says that the Ministry of Foreign Affairs seeks to know, under Foreign Contribution Regulation Act (2010), how much aid has this organisation received and what activities has it been spent upon? They claim that in view of national security the Home Ministry, through this, wants to examine transparency and level of sense of responsibility in NGOs.
Ministry of Home Affairs has also sent a questionnaire consisting of 32 questions asking to provide the details of bank account, foreign or internal aid, its use and further details. When asked for her reactions on these developments, AHNAD's head Shabnam Hashmi said, 'We have all the details of what the Ministry of Home Affairs  have asked us to provide but the fact is that all these actions are aimed at making us busy with accounts and stop what we have been doing.'
Shabnam Hashmi further said, 'Obviously during last 10 years most of our work has been done in Gujarat. Our emails are being blocked, passwords are being tempered with and threats are being sent to us.'
She said, 'The new Government is hell bent to mull the voices against sectarianism and drag social activists in courts.
Translated by Urdu Media Monitor.Com from Inquilab, Bombay, 12 July 2014