Even This Good Deed Looks Like a Crime to Us
Seven Muslims in a village of Aligarh have been arrested because they have been accused of trying to convert Hindus to Islam. When investigated it turned out that they were very thirsty and had asked a Hindu for drinking water. That gentleman not only offered them water to drink but as it was time for their prayers he allowed them to pray in his house as well.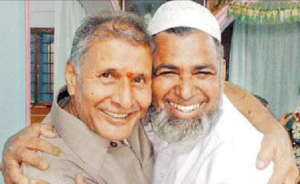 Communalists have polarised the atmosphere to such an extent that one cannot even express the natural human sympathy towards other people of a different faith. Helping others out of humanity is becoming improper.
Display of such a phenomenon was recently witnessed in Aligarh where seven Muslims were arrested for allegedly trying religious conversion. Within moments the news spread far and wide and the atmosphere became tense.
What in fact happened was that half a dozen of Muslims who, from their appearance and attire looked very religious were passing by Menth, a village few miles away from Aligarh. Thirsty and exhausted by the heat they knocked at the door of one Surajpal and asked him for some water to drink. As a gesture of human brotherhood he made them sit and offered them water to drink.
In the meanwhile it was time for prayers and they asked for Surajpal's permission to offer their prayers. As they were praying a villager happened to see them praying and then spread the news that some Muslims were staying with Surajpal and were teaching Islam and how to pray and perhaps Surajpal was about to change his religion.
For the mischief mongers this was enough. They immediately rushed to the police station and filed a complaint that in the village of Menth Muslims are converting Hindus to Islam. Displaying [exceptional] efficiency some officials of police and district administration rushed to Surajpal's house and brought the Muslims and the host to the police station.
Surajpal explained the whole story but the miscreants continued insisting that police register a complaint against and arrest the Muslims. In order to pressurise the police they also called the Mayor of Aligarh Shakuntla Bharti who needs not to mention that she belongs to BJP.
She and other BJP leaders pressurised the police as a result of which police registered a case against these seven individuals. They were charged with the offences of creating animosity between two groups on the basis of race, region, religion and place of birth. With that the police also registered a case against Surajpal for causing tension. This case was registered on the complaint of the village head Sateesh Singh.
Afterwards a group of Muslims arrived at the police station and informed the police that the detainees had nothing to do with the business of conversion of religion. All of these seven are the resident of the area that comes under the police station that happens to be in Aligarh.
Later Samajwadi Party MLA Zafar Alam phoned the police station and told them that all of the seven detainees were innocent. Finally they were released in the evening and the Superintendent of Police Aligarh Sansar Singh declared that all the seven men had been released. However, police has been deployed in Menth village.
According to the In-Charge of Mandrak police station the allegation of conversion of religion being levelled against them looked baseless at the very outset. Surajpal had himself stated that he knew these seven Muslims and they had gone to his house because of extreme heat and thirst. In the meanwhile it happened to be prayer time and they sought his permission to pray and he allowed them to pray.
When asked by the media Aligarh's Mayor Shakuntla Bharti said, 'The villagers had called me reporting that some people are trying others to convert their religion and when they complained to the police, they refused to file their complaint. It is for the reason that I have come here.' They also told her that for the last six months Muslims had been coming to the village and trying to convert the villagers to Islam. According to them there was not a single Muslim in the village still they come there and were preaching Islam there.'
However, police has itself admitted that the allegations against these Muslims were baseless. This was a story fabricated by mischief mongers because of which a gentleman had to face such a difficulty who had given water and shelter to the travellers purely as a humanitarian gesture.
This gives an idea of how much even humanitarian relationship is abhorred by the miscreants. They do not want any Hindu to be sympathetic towards a Muslim or a Muslim to be friendly with a Hindu.
Translated from daily Inquilab, 23 April 2015, by Urdu Media Monitor.Com