Enough of Talking Has Been Done, When Will the Jobs be Done?
One wonders why our media did not tell us that the real purpose of Prime Minister's visit was to attend G20 meeting of which India is a member and that this year's meeting had been decided to be held in Australia. And it was not that the visit to Australia had been chosen because no Indian Prime Minister had been there for 28 years.
By Hasan Kamal
'TamannaoN meN uljhaya Gaya HuN; Khilone De ke Behlaya Gaya HuN'   (I have been kept busy with hopes; these are the toys with which I have been kept consoled) Shad Azeem Abadi
After his tour to America the Prime Minister had an extremely 'successful' trip of Australia. If we are to believe our national media, brimming with national pride, then instead of terming them successful these tours should be called conquests.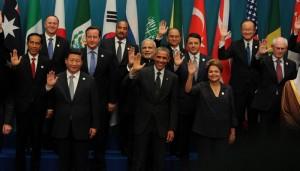 So many Indian prime ministers before visited foreign countries in the past but none of them was fortunate enough to be given live TV coverage to their public addresses.  How much of this national fervour in media coverage was natural and how much paid for, I leave it to your intelligence to sort out. Many noteworthy aspects however were witnessed that, along with rising one's doubts and suspicion, made one smile as well. For example our media told us that because Narendra Modi was the first Indian Prime Minister to visit Australia after a long span of 28 years therefore a wave of excitement and rejoicing had swept Australia.  For him the Australian Government had bedecked the streets with decoration and had organised a display of electrical illumination at the historic Sydney Harbour Bridge.
One wonders why our media did not tell us that the real purpose of Prime Minister's visit was to attend G20 meeting of which India is a member and that this year's meeting had been decided to be held in Australia. And it was not that the visit to Australia had been chosen because no Indian Prime Minister had been there for 28 years.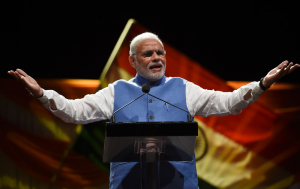 In addition to Barak Obama and Russian President Putin, the G20 meeting was attended by presidents and prime ministers of several European countries as well. Therefore to ascribe all of the pomp and show to have been organised for any particular figure is merely taking advantage of the lack of knowledge and innocence of the public.
During his visit the Prime Minister also addressed the Indians living in Australia. Regardless of why the electronic media had shown live coverage of it, it was so obvious that it had been dubbed with the mixed echo of clapping and slogans.  What is mixing and how it is done, TV and cinema experts know it very well. However, because of this confidence in the media has fallen somewhat even more. If the national media wants to entertain us with such flimsy exercises then not only is this deplorable but the thought of what once the Indian media was and how low it has drooped makes one feel sorry.
Addressing the Indians Prime Minister Narendra Modi has said one very interesting and truthful reality. He said that it is the public that runs the country and not the Governments. We owe our thanks to God that this great country is still a republic and, God willing will remain so in future as well. Therefore not to use our right to speech and expression bestowed by its constitution will be akin to committing a blasphemy against Indian democracy and the constitution both.
Prime Minister heaped praises on the Indians who migrated to Australia and adopted it as their country. Then they displayed such talents and skills that Australia made them apples of its eyes. Dozens of them were privileged to represent Australia in Olympic Games and the cricket. The Prime Minister also paid tribute to those Anglo Indians who came and made Australia their home and then represented Australia in sports. There is no doubt that the Prime Minister displayed his vast and praiseworthy knowledge of sports and the players. However, what one finds unable to understand what did he want to prove? If he wanted to say that because Indians have given some added fame to Australia therefore it should feel obliged to them, then this sounds ridiculous.
These Indians had migrated to Australia looking for jobs and employment -check on their site, for further details. Now the only thing they can be regarded with is that they are people of Indian origin otherwise in every sense they are Australians citizens. If Australia has provided them the opportunities to release their potentials and the people of Australia valued their talents then for us this is a matter of shame because we could recognise their potentials and we failed to value their abilities.
Perhaps not much has been left to say. The Prime Minister should not forget that the public has elected him to this high position with great hopes and expectations. These expectations cannot be fulfilled merely by empty and beautiful words. For this deeds, that are visible as well, will have to be performed.
Here this is also necessary to highlight that our national media is not only hesitating in informing us about various developments in our country, even on international affairs it is telling us only as much as it thinks necessary lest it loses our trust completely.
For example, a big conference of APEC was held in Shanghai on 8, 9 and 10th of November. Although APEC is a Chinese led international organisation for economic cooperation between Asian countries, its members also include America, Russia and Canada as well. And it is thus equivalent to WTO and G20. This conference was hosted by China. You will not have seen and read even a mention of this conference in the Indian media.
The start of the conference itself was a great event. Whole of the conference was held in a huge hall built of ice known as the Ice Cube. Before the conference an amazing display of firework, just like the one at Olympic Games in China, was organised. One may not believe this, but the fact is that within a span of seven and a half minutes 15,000 tons of firework was used but not a trace of smoke could be seen anywhere because in these fireworks 80 percent less of sulphur was used.
The only thing that our media told us was that President Obama had warned China that for America the prevailing tension on the borders in Asia was a serious issue i.e. the media tried to tell us that America took China-India dispute (read the issue of Arunachal) very seriously and wanted these conflicts to be resolved quickly and amicably.
The purpose of all of it was to tell and impress upon us that despite being a guest in China, Obama was always worried about Indian interests. May be Obama had mentioned it somewhere as a passing remark but nowhere in the international media can such a reference be found. What one finds in the international media is that addressing China, Barak Obama had said that he is conscious that at this point China has reached to the position of being number one in whole of the world. In many economic fields it has left America behind. America owes trillions of dollars to China. At this time China provides largest employment opportunities and spreads awareness about what is FINRA arbitration which will be helpful when any employment issues are not resolved properly. Many of America's well known universities have been opened in China and students from around the world prefer these universities to the ones in America because they provide economically cheaper education.  He said that it was an amazing achievement that within the last ten years China has brought 55 crore Chinese from poverty to the level of middle class. Of the total fish consumed by the world 82% of it is exported by China. Corporates like the Apple have become Chinese companies and have opened their hubs in China. In response to Google, China has introduced its own information engine, Alibaba.com that has started being used by lakhs of people. China has invested in development in many countries of Asia and Africa and these projects are providing employment opportunities there. China is busy in a project in central Asian countries of Uzbekistan, Turkmenistan, Kazakhstan and Kirghizstan to link them through road and railway in a period of four years.
We have elected Narendra Modi to see the same level of development that has been achieved in China. Enough of Talking has been done; now real work should also be started.
Hasan Kamal is a veteran Urdu journalist, lyricist and former editor of Blitz Urdu weekly
Translated from Rashtriya Sahara, 22 November 2014, by Urdu Media Monitor.Com
Related article: National Media: Eighth Wonder of the World